NEW! > Tall Classic Side Table

Tall Classic Side Table



| | |
| --- | --- |
| Availability: | IN STOCK- only one available |
| Prod. Code: | TCLSIDWAL |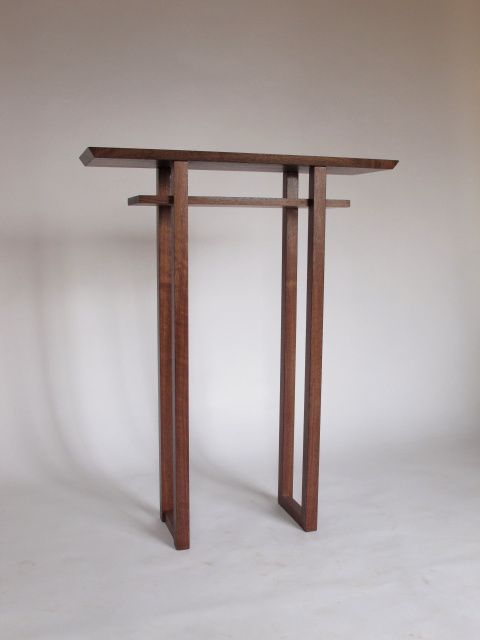 This solid walnut table is tall and thin and perfect for the hallway or entryway. The table design is minimalist, with a nod to mid century modern furniture as well as a hint of craftsman styling. Handmade from solid walnut, the narrow table features many unique details. The shelf is inset with carefully cut joinery in the legs. The feet are beautiful dovetails. These feet add stability to the narrow table design but they also function to "lock" all of the piece together. By using these heirloom joinery techniques, you not only get a beautifully crafted piece of furniture, but also a table that is sure to be enjoyed for generations to come.
Every edge and corner features a hand-shaped profile. Using custom made hand planes as well as a delicate spokeshave, the edges of our furniture are softened. Rather than just sanding over the edges, these special tools create lovely lines. The corner detailing is especially wonderful. Even these details are very purposeful and artistic.
Each piece of wood used for this tall table was carefully selected by hand. The grain patterns in the wood are used in an artistic way, specifically placed to create a work of art that flows over the table. The legs feature mirrored patterns at the front that flow down from the table top. An arching pattern in the table top flows in from the right, moving across the table top with a beautiful figured pattern at it's beginning. Tight lines at the front edge of the shelf sweep gently down in an curve across the table. Each time you look at this lovely walnut side table, you will find more details in the wood to enjoy.
The finish is velvet smooth to the touch. It is hand-rubbed layer by layer so that the natural appearance of the wood is preserved without masking the texture but also enhancing the deep walnut wood color and protecting the table for every day use. The table has a medium sheen.
**The table pictured is the exact table you receive! This table is IN STOCK.**
Created from solid walnut
---
Each piece of Mokuzai Furniture is individually hand-crafted by husband and wife team, Peyton and Tamara White. Learn more about us and see what makes our work so special.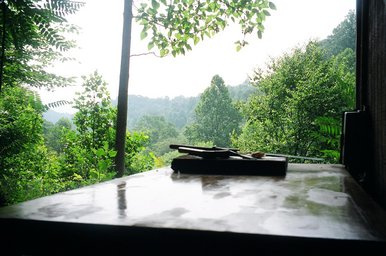 ---