---
---
High Style, Smart Size.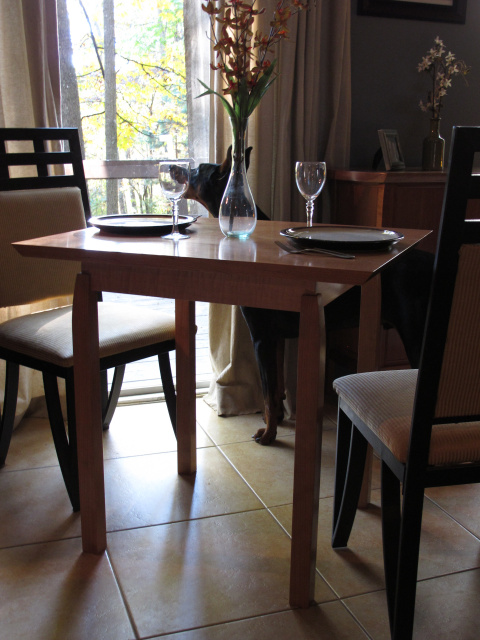 Cherry and Tiger Maple
Table for Two
An intimate setting with beautiful detail.
This dining table for two is perfect for a breakfast nook or space conscience urban living. Made of solid wood the black cherry is paired wonderfully with the tiger maple. Notice the exposed leg detail and the hand-cut through dovetail construction highlights.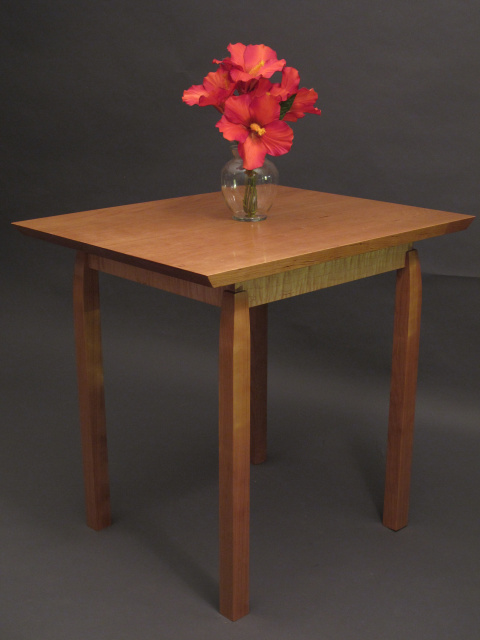 - SHOP OUR EXPOSED LEG COLLECTION -
Creating a trend...
Walnut and Tiger Maple Console Cabinet paired perfectly with the Mokuzai Tall Case.
Sliding doors, smart shelving, display, entertainment and art.
An entertainment center, a tv stand, a handsome solid wood bar, our console cabinet has many uses. Delicate doors slide to hide different spaces. Hand-cut dovetail construction and mortise and tenons with tiger maple wedges are a design highlight and our signature visible joinery. Dramatic floating panels. Gentle curves. An alternating open back, and clever inset shelving is perfect for running cords and ventilation. Bookcase. Display Cabinet. Storage. Mokuzai is solid wood furniture.
Functional Elegance...
Tiger Maple and Walnut
Four Drawer Dresser
A work of art for functional storage.
New, by custom order, Mokuzai creates beautiful pieces for your bedroom. This four drawer dresser is made of tiger maple and black walnut. The tiger maple grain, bounces with light and the deep walnut provides wonderful contrast. Drawers feature smooth wooden slides, strong ebony stops, book-matched panel interiors, and shaped walnut pulls. Hand-cut dovetail joinery construction adds strength and exciting design details.
From Peyton...
"I am intrigued by the patterns of nature, by the shapes and colors and history held within the trunk of a tree. For me, the wood speaks to what it should become, inspiring the new design rather than I conforming it to something standard. I find balance between curves and lines, between natural and structured. I find perfection through natures equations. Ever changing and flexible but rooted in primary organization. I create because it's who I am, because my work has a voice. I create furniture because home is the fundamental base we all claim for memories, nurture, happiness, for love. It is a beautiful feeling to know my art will be a functional part of something so inherently warm and good. My vision and knowledge is worked into something tangible that will be passed on through generations."
Mokuzai Furniture is created with the utmost care and attention to detail. The fine joinery details are hand-cut for a precise fit and a secure hold. The finish for your piece is a combination of fine oils, waxes and varnishes that have been hand-rubbed, layer upon layer for a durable surface.
---